Faculty
Dr. Ho Hwi Chie, M.Sc.
Most of Dr. Ho Hwi Chie's research involves ergonomics or human factor engineering, industrial psychology, and quality engineering. Her current research is centered on well being, job satisfaction and productivity.
Her background as a CEO in a German based automotive company significantly intensifies her international standard quality of teaching and learning experience for the students. In addition, her industrial engineering background enriched by educational psychology and doctoral in industrial psychology strengthen her competency in teaching human factor engineering and leadership. Her passion and dedication in improving the quality of education are shown through assignment which require various activities prioritizing the essential human values and leverage the richness of Indonesian culture. Hence, her students produce novel yet ergonomics invention to improve the quality of life and well being of the society.
Despite her strong dedication in lectures and publications, she is still actively involved in professional development activities such as becoming international conference reviewers, holding membership in Institute of Industrial and Systems Engineers (IISE), Human Factors and Ergonomics Society (HFES), and American Psychology Association (APA), and faculty advisor of IISE BINUS University chapter.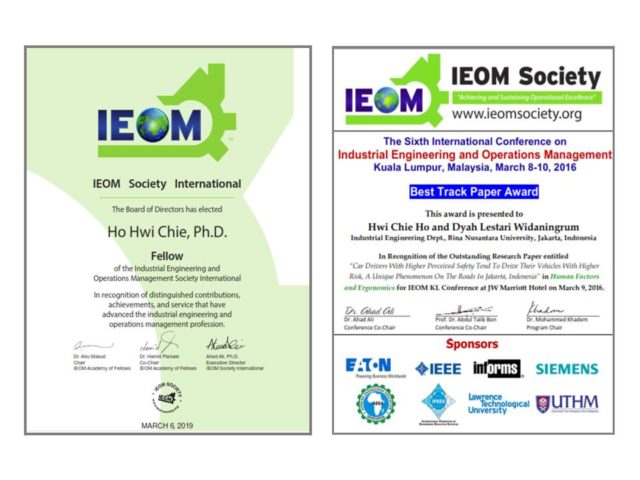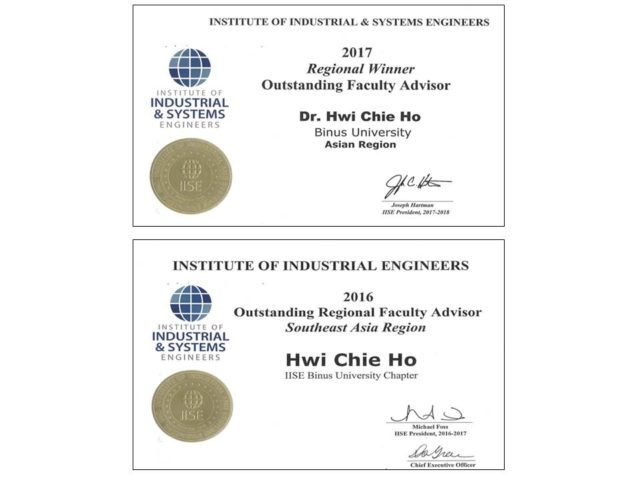 Endra, S.Kom., M.T.
Endra, S.Kom., M.T. received his master degree in optoelectronic and laser application from University of Indonesia . His research interest is mainly in large area of signal processing, especially in compressive sensing, wavelets, and nonlinear fiber optics.
Given his track record in winning gold medals and other awards in international physics competition as well as numerous national awards in physics, he has strong credentials in illustrating complex physics theories and engineering subjects in simple and easy to understand language. Hence, He is entrusted to be the cognizant faculty for Physics, Digital Signal Processing, and Electronics courses in BINUS ASO School of Engineering.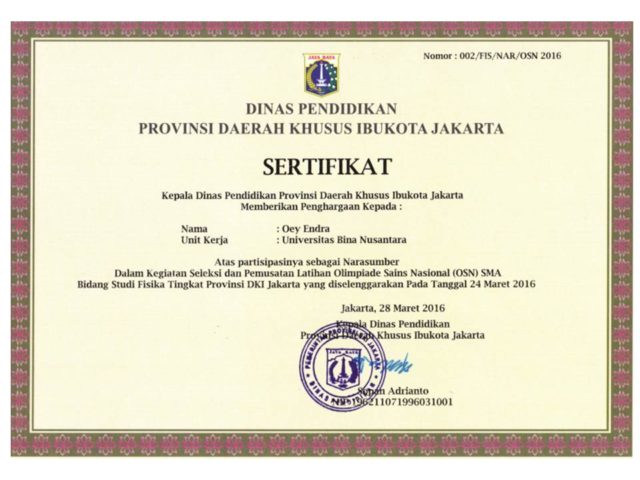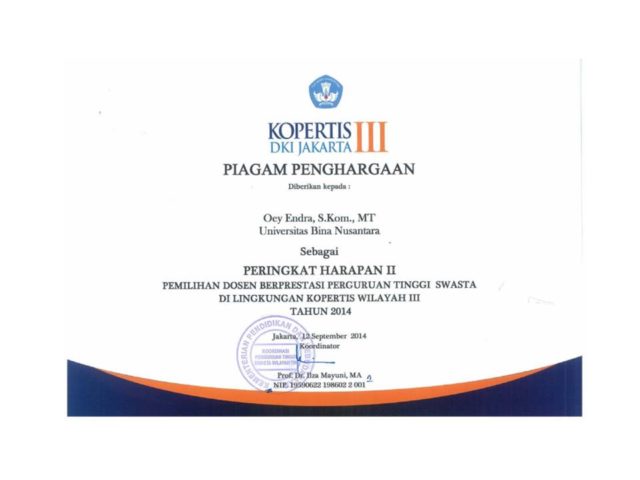 Dr. Ir. Khristian Edi Nugroho S., B.S.I.E, M.M.
Dr. Ir. Khristian Edi Nugroho S., BSIE, MM's multi arrays of professional careers in Europe, Asia and USA since 1991, are within his strategic exposures as practitioner in Fast Moving Consumer Goods (FMCG), Aircraft Manufacturer, Banking and High Technology Industry. Eventually those professional exposures are orchestrated with his academic expertise. Dr. Ir. Khristian and other BASE Faculty members' team spirit are passionately nurturing and ensuring the best, both soft and hard skills, for students of BINUS ASO School of Engineering (BASE), BINUS University.
Dr. Ir. Khristian obtained his Bachelor of Science in Industrial Engineering (BSIE) from State University in USA; in which its Faculty of Engineering has obtained since 1949 for its Accreditation Board of Engineering and Technology (ABET) International Standard. Furthermore, he obtained his postgraduate in MM/MBA Program, with its emphasize on Harvard Business – Case Study Approaches. He completed his PhD program from Doctor of Research in Management (DRM) at BINUS Business School (BBS) that obtained American Assembly of Collegiate School of Business (AACSB) International Standard.
As highglighted aspects in USA, Dr. Ir. Khristian has been since 1998 distinguished member of Institute of Industrial Engineering (IIE), Chapter : 56 at Wichita (KS). ID # 100686427.  Currently, throughout its institution years, IIE becomes Institute of Institute of Industrial and Systems Engineering (IISE). In addition to that, Dr. Ir. Khristian has been distinguished member for Sigma Gamma Tau, in USA, within National Aerospace Engineering Honor Society; and Tau Beta Pi, in USA within The Engineering Honor Society.
Subsequently, Dr. Ir. Khristian enhances his professional engineering expertise for the best of BASE Students and Society, through his prior abroad exposures in Professional Engineering (PE) in USA, with the Program Profesi Insinyur in Indonesia. Precisely, he pursues it in reputable high quality Program Profesi Insinyur, in Bina Nusantara University, known as PSPPI Program.
Dr. Ir. Khristian, in this PSPPI Program in Bina Nusantara University, has articulated for Insinyur (Ir.) Professional title, through professional report on:
The Next Normal and Sustainability on Industry X.O Trilogy of Professional Engineering, Industrial Engineering and Business Engineering.
Within Professional Perspectives, Dr. Ir. Khristian, obtained, Professional Certification from Lembaga Sertifikasi Profesi (LSP) Retail Indonesia, of Badan Nasional Sertifikasi Profesi (BNSP).

Furthermore, Dr. Ir. Khristian's Dissertation constitutes spirit of Intra disciplinary, through report on  Service Innovation. Precisely, his novelty on theoretical, practical and empirical implementation refers to his report on:  Effect of Ambidexterity, Transformational Leadership and Organizational Learning on Service Innovation and its Implication toward Financial and Non Financial Performance.
During prior years in 2005, in Bina Nusantara International The Joseph Wibowo Center (JWC),  BINUS UNIVERSITY ; Dr. Ir. Khristian has been developing Professional Competencies  on Chartered Financial Analyst (CFA) from CFA Institute; on Diploma Financial Planning (DFP) from Institute Financial Planning Indonesia and Executive Development Program; and on Certified Information System Auditor (CISA) from ISACA Indonesia Chapter.
Dr. Ir. Khristian's researches are focusing on Intra disciplinary of: a. Strategic Competitive Innovation, Leadership and Disruptive Ambidextrous Industry X.O, as different Sustainable, Agility and Resilience Perspective from Industry 4.0 and Making Indonesia 4.0; b. Trilogy of Industrial Engineering, Business Engineering and Professional Engineering; c. Digital Transformation and Ecosystem Building.
In term of the aforementioned Intra disciplinary, Dr. Ir. Khristian has been conveying and sharing his thoughts through several books and/or book chapters, not limited to:
Strategic Management in Digital Era (ISBN 978-623-93975-0-0); Contemporary Organizational Management (ISBN: 978-623-6571-97-2); and Contemporary Business Management (ISBN: 978-623-6747-39-1) and beyond of other  books and/or books chapters on Engineering Perspectives.
Those Engineering, Innovation and Technology in Digital Era and Digital Transformation of Dr. Ir. Khristian's related books chapters are the following but not limited to Sustainable Engineering Management: Challenges and Opportunities in Industry 4.0 and Society 5.0; including sub topic of R & D Development in Sustainable Engineering. This R & D discussion is further elaborated in book chapter of Sustainable Development & Management: Concepts, Transformation and Strategies.  HRM 4.0: Towards Optimization, Creativity and Agility; includiing sub topic of Innovation and Technology's Role in Human Resource Management and Digital Transformation (ISBN: 978-623-323-069-8).
In addition to that, the related books comprises as well, the books chapters of Bisnis dan Kewirausahaan di Era Digital: Peluang, Transformasi, dan Dinamika, known as Business and Entrepreneurship in Digital Era: Its Opportunities, Transformation and Dynamics (ISBN: 978-623-323-175-6). Manajemen Keuangan dan Bisnis: Prinsip Dasar, Strategi dan Operasionalisasi, known as Financial Management and Business: Fundamental Principles, Strategies and Operationalization (ISBN: 978-623-6747-90-2).
Dr. Ir. Khristian and BASE Faculty members are actively upgrading the skills and competencies for the best of BASE Students and Society within Indonesia, in particular for Indonesian Young Future Leader, and Global Constellation. As cognizant faculty, he is teaching Industrial Engineering; and multidisciplinary related soft and hard Engineering skills Courses in BASE. He has recently started writing and publishing books and/or book chapters. Until now, he has been actively contributing as SCOPUS Journal Reviewer; Winning award for Best Paper and Best Poster Presenter of International Conference. Ultimately, he won Doctoral Dissertation Competition Award in International Events.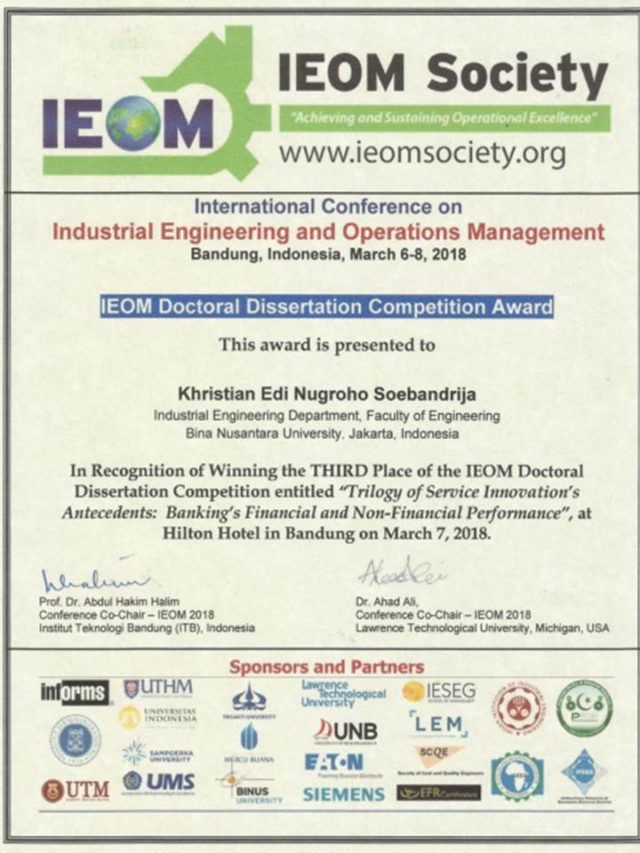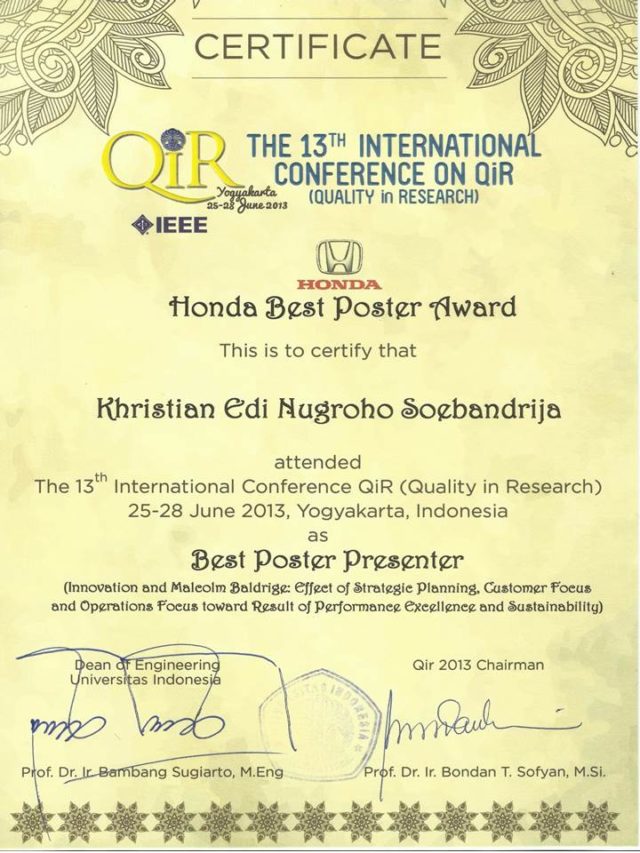 Ir. Winda Astuti, S.T., M.Sc., PhD.
Her educational background in Electrical Engineering and doctoral degree in Mechatronics Engineering, has positioned her to be the cognizant faculty for Electric Circuit Theory, Digital Signal Processing, and Control Systems courses.
Furthermore, she actively engages ARE students in state-of-the-arts engineering research such as support vector matching voice identification, earthquake prediction, and fault vehicle detection based on motorcycle sounds, which give enrichment and added value to these students' learning environment.
She is currently holding a membership in Institute of Electrical and Electronics Engineers (IEEE).
Ir. Gatot Suharjanto, M.T.
His passion in improving the quality of education in Indonesia motivates him to dedicate himself in education industry and leave his successful career as a consultant of a multinational company. Such enthusiasm can be easily seen through his continuous encouragement to his students to create innovative engineered products whilst preserving Indonesian heritage and culture.
In addition, Gato Suharjanto has been entrusted by the Indonesian Government to lead training for ASEAN Skill Competition in CAD division, for over 8 years which becomes another significant added value for product design engineering students.
Ir. Sofyan, S.Kom, M.Eng.
Master in Electronics Engineering from one of the best university in Japan, The University of Tokyo, Sofyan Tan received some research grants for the development of autonomous vehicle.
His specialization in automation systems, embedded systems, and wireless telecommunication systems, makes him a reliable faculty of Advanced Digital Design, Control Systems, Computer Organization and Architecture, and Data Communication courses, in order to equip the Automotive and Robotics Engineering students with the main skill of robotics.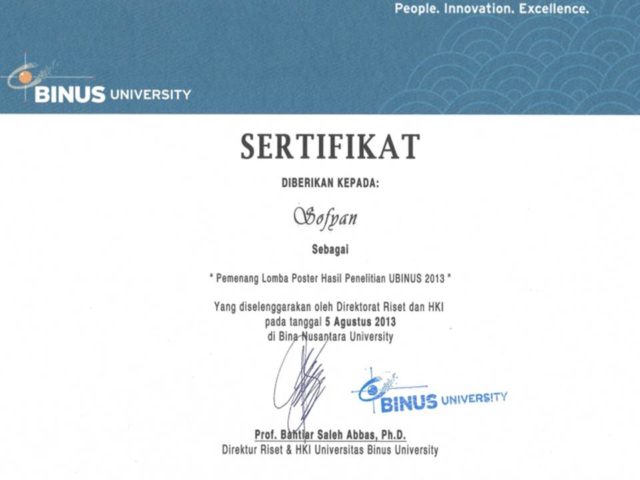 Dr. Eng. Ir. Zener Sukra Lie
Dr. Eng. Ir. Zener Sukra Lie was born in Jakarta, Indonesia on March,14, 1984. Dr. Ir. Zener Sukra Lie completed his undergraduate degree in Electrical Engineering from University of Indonesia, Jakarta, Indonesia 2006. In the same year, He joined the graduate program in Electrical Engineering with majoring microelectronics at Bandung Institute of Technology, Bandung, Indonesia.
In 2012, He got his doctorate degree on Nuclear Power and Energy Safety Engineering Department from University of Fukui, Fukui, Japan. Currently, He is a lecturer in the department of Automotive and Robotics, BINUS ASO School of Engineering (BASE), Bina Nusantara University.