BINUS ASO School of Engineering Supports Michael's Character Development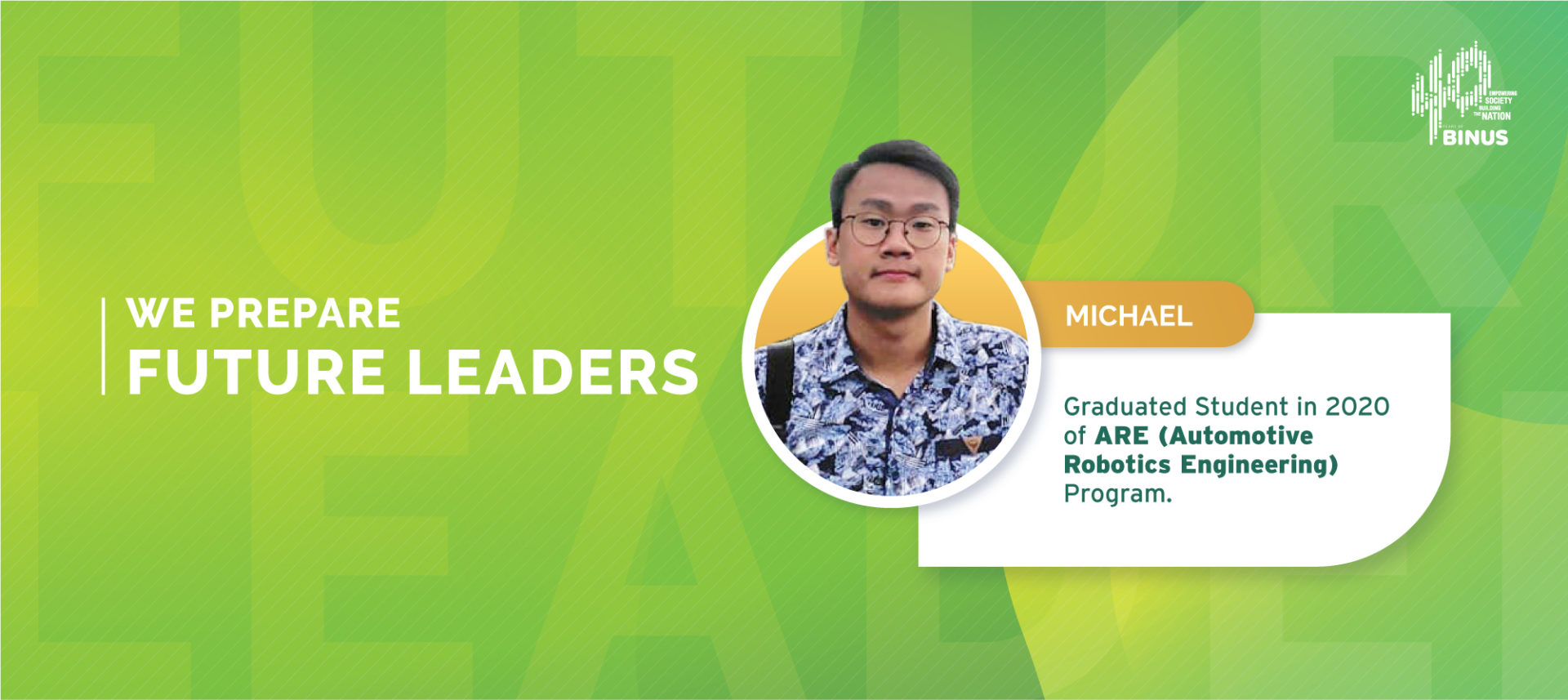 More than just giving material in the classroom, the lecture period is also the right moment for the development of student character. So, not only have broad insight, students will also have a strong character that can help them survive in the world of work and society after graduation.
That's how Michael felt during his studies at BINUS ASO School of Engineering (BASE). Michael is a student majoring in Automotive and Robotics Engineering (ARE) graduates in 2020. In addition to studying theoretical science and actively following various projects, he also admitted that BASE is very supportive of character development.
From the beginning not fixated on the major, but the lecture
Michael's journey with BASE has actually started since he was in high school. From the beginning, Michael was not looking for a definite college major to go to, but rather focused on his lectures. Actually, after graduating high school, Michael wants to continue studying in Japan. However, his wish was hampered by cost.
Interest in the ARE program arose when Michael attended BINUS University's introduction session. BASE became one of the faculties introduced at the session. Michael is interested in studying at BASE because of a joint venture between BINUS University and ASO College Group based in Japan, his dream country.
From there, Michael studied two programs offered at BASE, namely ARE and Product Design Engineering (PDE). After studying each program, Michael's choice fell to ARE because he initially wanted to help his parents' business engaged in the industry.
Learn to face the challenges of a thesis project
Automotive and robotics are not familiar fields for Michael. Since the beginning of college, he tried hard to keep up with his contemporaries who already understand more about both fields. This also indirectly increases Michael's competitiveness.
Moreover, during his studies at BASE, Michael had the opportunity to work on various projects. Of the many projects he followed, one that Michael thought was the most challenging was his own thesis project. At that time, he and his teammates had to develop a tool to detect sleepy motorists in the car.
"From there, I just found out that the person who blinks more than a certain amount in one minute can be found out that he is sleepy. I think that's something unique. In addition, there are other tricky things that need to be faced so that makes me learn many new techniques, "said Michael when interviewed virtually some time ago.
The difficulties Michael faced while working on the thesis not only gave him new insights but also indirectly strengthened his character. Michael learns not to give up and keeps trying to find solutions.