Jonathan Christianto's College Experience and Work Culture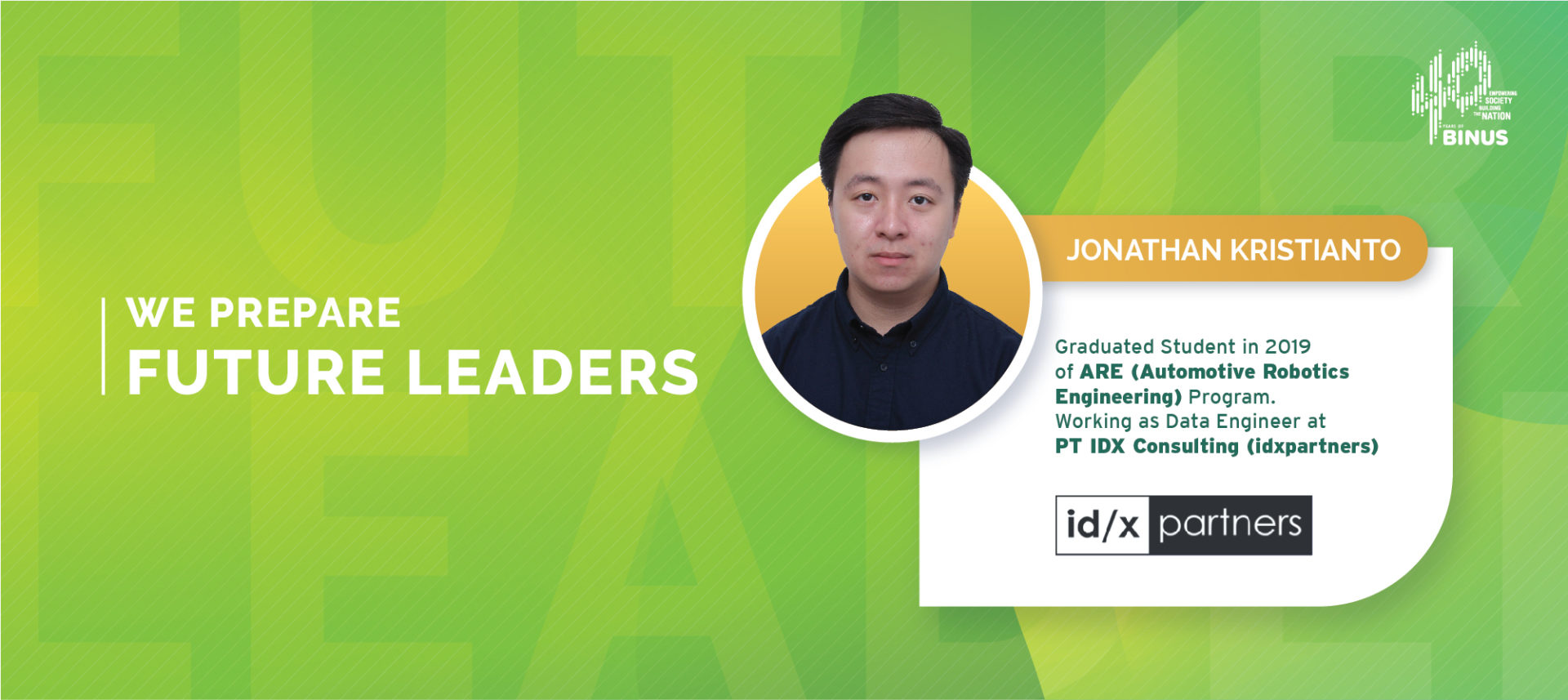 Along with ASO College Group from Japan, BINUS UNIVERSITY provides a global course under BINUS ASO School of Engineering (BASE). The school is established to fulfill the needs of global industry, especially in the field of engineering. One of his alumni, Jonathan Christianto, recently shared his college experience at the BASE as well as his current professional role as a data engineer.
Profile of Jonathan Christianto
Jonathan Christianto went to the Automotive and Robotics Engineering (ARE) Department, BASE, in 2015 and got his bachelor's degree four years later. His decision to choose this major is quite unexpected. In fact, ARE is not his first choice as he formerly applied to the Film Department of BINUS UNIVERSITY. He had passed every test and completed every bit of preparation for this first major until one little incident at home changed them all.
Jonathan reflected that before he officially started college, his car broke down out of the blue. As he and his father wondered what was wrong with the vehicle, a sudden idea came up. They realized that BINUS UNIVERSITY offers a new major in its School of Engineering that will become a long-term solution to their problem. Just like that, Jonathan decided to change his major to ARE and devote himself to the world of engineering.
College Experience
For Jonathan Christianto, the four-year college experience in BINUS ASO School of Engineering is one of the best experiences in his life. In cooperation with ASO College Group, Japan, BASE is supported by global approaches and state-of-the-art facilities. As a result, its students and graduates will have the opportunity to immerse themselves in Japanese educational and work culture for the future.
Jonathan is no exception. During his college years, he felt lucky to gain a deep understanding of engineering as he learned directly from the experts in both countries: Japan and Indonesia. He has obtained theoretical knowledge and practical experience, which fully prepares him for his future job.
Among the unforgettable experiences, Jonathan stated, is that one time when he worked on his final project. In doing so, he cooperated with other students in both small and big groups and asked for expert advice from the lecturers.
This milestone is considered a challenging one for Jonathan because he had to deal with coding development for such a long time before presenting it as his final work to graduate. Nevertheless, his knowledge and experience from this stage make him completely ready to enter the next stage after college.
Job Offer and Work Culture
Today, Jonathan serves as a valuable member of IDX Optus, a respected data science company that is also a part of IDX Partners in Indonesia. He works as a data engineer that deals with developing a big-scaled warehouse or big data, including its computerization, infrastructure, and server mechanism.
Jonathan's current job is not necessarily his first one. Even before graduating from BINUS UNIVERSITY, he already served several internships and became a Physics Laboratory Assistant in his university. The opportunity to join IDX Partners also came from the university's regular event for graduates, namely BINUS Job Fair.
When the opportunity came up at the fair, Jonathan got a walk-in interview with the founder of IDX Partners. He recalled that he was asked to choose one from five available topics during the interview and then present the deep analysis about it in front of the board. It felt like a challenge at first, but his college experience at the BASE has prepared Jonathan to possess an excellent work ethic, more or less similar to the Japanese work culture obtained from the cooperation of BINUS UNIVERSITY and ASO College in Japan.
In the end, Jonathan Christianto expressed an important message for other ARE students in BINUS ASO School of Engineering. He highlighted that every bit of knowledge presented in this course is important. All of them have their role in preparing students and graduates as they enter the professional world in the workplace. Working on this principle, he has proved to be one of the first students who got good employment before graduation.