Industry X.0: Go beyond Industry 4.0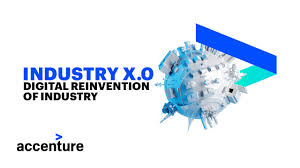 Source: Www.Accenture.com
If you think Industry 4.0 is the epitome of industrial digitization—think again. The fact is the very notion of industry itself is evolving.
Today's world runs on rapid, exponential and, above all, perpetual change.
The solution is not another industrial revolution, but a wholesale digital transformation in both the things we make and the way we make them.
This is the New. This is Industry X.0.
Our end-to-end framework and cross-functional breadth of research and resources allows you to operationalize digital innovation across your business at every stage of product and service development.
Using new technologies like IIoT, analytics, AI, robotics, 3D printing and digital twin, you'll unlock new revenue and work with customers, employees and partners on a whole new level.
Through Industry X.0, we can help you not only adapt to change but also embrace it as a way to win in the New.