Exhaust Heat Recovery System
What is Exhaust Heat Recovery System? The name says it all. Heat losses from exhausts in transportation are converted back to energy. This system is very significant to hybrid cars because they need to maximize fuel efficiency but minimize emissions. However, this system could also be implemented to other vehicles like trucks, SUVs, and etc.
 Some Notable Exhaust Recovery Technologies:
·         Exhaust Gas Heat Recovery (EGHR)
This heat recovery system uses exhaust heat to constantly and rapidly warm powertrain fluids, as shown in Figure 1. Hence, reducing friction which leads to a better and more efficient energy consumption. How so? The EGHR unit redirects waste thermal energy from engines, transmissions, axle and from the coolant fluid which moves through the unit to the powertrain. Recovered heat could also help warm the cabin and defrost windows in cold climates. For hybrid cars, exhaust heat could redirected to warm the car battery.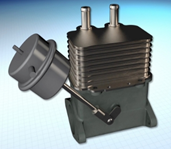 Figure 1. EGHR, static1.[3]
·         Rankine
In cars, this thermodynamic cycle system vaporizes a fluid which is pressurized by steam generator in the exhaust pipe. Due to the heat from exhaust gases, the fluid will vaporize. The pressure will spin the turbines which generates electricity (if connected to an alternator) or connected to the crankshaft of the combustion engine. Next, the pressurized gas is condensed using cold water through coils changing it back to liquid state. The fluid is redirected back to the pump to repeat the process.
 As more and more cars are produced, CO2 emissions increases which make governments making new regulations on car emissions. Therefore one of the most effective way to recover lost energy is this Rankine Cycle. German car brand BMW and Japanese car brand Honda have applied the Rankine Cycle into their automobiles. Companies like FVV and Barber Nichols also develops Rankine technologies for vehicles, as shown Figure 2.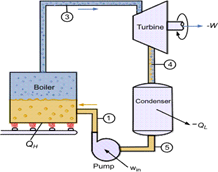 Figure 2. Rankine Engine Cycle [4]
·         Automotive Thermoelectric Generator (ATEG)[5]
Also called a Seebeck generator, ATEGs converts temperature changes (heat flux) to electrical energy. This is called the Seebeck effect. Using the four main components: hot-side heat exchanger, cold-side heat exchanger, thermoelectric materials, and a compression assembly system, ATEGs captures lost waste heat and decreases the fuel consumption of the vehicle's electric generator load on the engine.
P-type and n-type semiconductors are placed between the hot and cold side heat exchangers which are high thermal conducting metal plates. Charge carriers within of the thermoelectric material diffuses from the hot to cold side heat exchanger. Cumulative diffusion results in a net charge which build up a electrostatic potential. With the extremely high exhaust gas temperature on the hot side and the low coolant temperature on the cold side, heat flux is able to generate at least 500 W of electricity.
 There are two types of ATEGs. First is the coolant-based ATEGs which utilizes engine coolant as cooling fluid. Second is the exhaust-based ATEGs which uses air from surroundings (ambient air) as the cooling fluid.
Contributed by Michael Widjaja (ARE sem 2 2017/2018)
Reference
[1] Brzozowski, Aaron. 2016 Chevrolet Malibu Hybrid Exhaust Gas Heat Recovery: Feature
Spotlight, GM Authority,  2015, http://gmauthority.com/blog/2015/04/2016-chevrolet-malibu-hybrid-exhaust-gas-heat-recovery-feature-spotlight/. Accessed 21 October 2017.
[2]Snyder, G. J. Toberer, E. S. Complex Thermoelectric Materials. NATURE MATERIALS,2008, VOL 7; NUMBER 2, pages 105-114. Accessed 21 October 2017.
[3]squarespace.com
[4] http://thermopedia.com/
[5]Garay, Jonathan. 'Rankine Engine Demo'. Youtube, 2011, https://www.youtube.com/watch?v=4-9ZE1rI73I. Accessed 21 October 2017.