Colors in Various Gadgets
In the year of 2017, humanity had been using gadgets as their everyday device for productivity, business and leisure, and colors had been greatly used as a tool to express one's emotions and personality.
The use of Warm colors in laptops such as Red, Yellow, Orange and all the colors in between are meant to signify power and expressivity, not to mention that it gives off a warm aura which were meant to attract lively and expressive individuals. Red signifies rage and fury, yellow expresses fun, joy and excitement, and orange expresses both aggressiveness, but in a bright manner. [1]
The use of Cool colors such as Blue, Purple, Green and all the colors in between are meant to signify elegance and high-class. It is also to give off a cool and calm aura, which suits for individuals who like the feeling of being respected and viewed as a professional. Blue signifies calmness, green expresses nature and benevolence, meanwhile purple signifies royalty and arrogance. [1]
The use of Neutral colors such as White, Grey, Black and Brown were meant to signify strength, progress, boldness and seriousness. This is why business laptops commonly use these colors to express neutrality in the business world. Black signifies premium, luxury and professionality, grey signifies boldness and neutrality, white signifies purity, a fresh start, and brown signifies strength and structure. [1]
The use of Luxurious colors such as Silver, Gold and Metallic Rose signify glamour, wealth and prestige. Perfect for individuals who want to express their "bright side" and increases their self-esteem. Silver signifies prestige and reflection, gold signifies wealth and shine, and metallic rose signifies grace and glamour. [1]
MOBILE PHONES
Mobile phones started taking over the world in the early 1980s and had been taking over the market since then. The first generation of mobile phones uses monotonic colors, such as black and white, but as time passes by, mobile phones had been using all the colors in the available spectrum. [2]
In the year 2010, there had been a breakthrough in the history of mobile phones, called smart phones. Smart phones offer productivity and social media on the go, not to mention available in different colors, attracting people of all ages, especially teenagers and adults. [2]
Smart phones mainly use black and grey, to signify their luxurious status, and some features in white, to express a brand new vibe. As time goes by, rarely used colors such as beige and brown were implemented to show that there are no limitations when it comes to color implementation. [1]
TABLETS
Tablets such as the iPad and Samsung Galaxy Tab had been widely used by people of all ages, but mostly used by businessman. [3] This is why colors introduced to tablets are limited from black to white to brown (neutral colors), to signify simplicity and prestige at the same time. [1]
Tablets are less likely to be used as a tool of expression, but mainly just for productivity. However though, the peripherals which support these tablets such as cases come in very abstract sense of colors, which makes this expressless tablet into a more expressive one.
WATCHES
Watches had been more of a peripheral than a gadget, but it is still considered a gadget because of its wide range of use. At the early days of watches, luxurious colors like silver and gold were used, due to the fact that in the renaissance times, only rich citizens were able to afford such watches. [4]
Nowadays, both cheap and expensive watches use colors all over the known spectrum, making it widely accessible for everybody. Watches had been a gadget that's viewed as a more direct way to express ones personality, as opposed to phones and laptops. [4]
MP3 AND MP4 PLAYERS
MP3 and MP4 players such as iPods and Walkman had been widely used in the 1980s to early 2000s, until the breakthrough of the new iPod Touch. MP3 and MP4 players are considered to be the most freestyle gadget that's ever produced, mainly due to its very wide range of customizable main colors, secondary colors and even tints and had been a popular trend followed by teenagers who likes to express their outgoing personality. [5]
LAPTOPS
Laptops had been the go-to gadget for people on the move since the early 2000s, and they use it everywhere they go. Laptops are classified into different categories such as casual, business, luxury and gaming. [6]
Casual laptops are mostly used by freelancers, students and university teachers. They usually have a wide variety of colors, featuring all colors in the spectrum. Majority of the users are teenagers, and they are free to choose their favorite colors to express themselves in public. They are introduced in the early 2000s, and are further manufactured till present day.
Business laptops are mostly used by businessman, businesswomen and college students. Business laptops usually have dark or neutral colors such as white, grey and black, since neutral colors represent seriousness and monotony.
Luxury laptops such as Apple's Macbook usually use "exotic" or "rare" colors such as rose, gold and silver. These colors represent luxury, unusuality and prestige, perfect for people who like to express their value in their life. Sometimes, with the use of matte and metallic colors also represent prestige, as the texture is very different unlike gloss, which makes it distinguishable.
Gaming laptops are of course used by people who are very expressive by playing games. Gaming laptops combines the seriousness aura of business laptops, the carefree colors of casual laptops and the accents of luxury laptops. As a result, gaming laptop combines the colors black, red and white. Meanwhile, some of them have customizable RGB backlit keyboards, to further support the expressive nature of gamers.
The peripherals inside laptops include the trackpad, USB ports and keyboard. Surprisingly, more colors are likely to be used nowadays rather than just white. A wider variety of colors are implemented, such as red, blue and green, to give laptops more of an appeal, rather than the plain black and white business laptops.
For example, backlights used in keyboards no longer just feature the color white, but features red and even RGB shifting colors, featuring all spectrum colors. Not to mention the trackpads are also colored red instead of black, and had been given slight streaks of mixing colors.
In addition to that, mice and laptop bags have used matching colors with the laptop itself, to further support the eye-catching factor of these laptops. Most mice also feature in lots of colors and tints, creating infinite possibilities of color combination in terms of peripherals and gadgets.
HISTORY OF THE USE OF VARIOUS COLORS IN LAPTOPS
In the early 1970s, the first laptop was made with the color white, representing a "fresh start of a new generation of technology". As time passes by, they implement the color grey and black to show the vast contrast of the development of laptops. Later on in 1980-1990, the start of implementing the color blue for specific keys in the keyboard, like Caps Lock, Shift and Ctrl. [8]
Later on after the start of the millennium year, laptop manufacturers decide to give more of a colorful feel to laptops, to give it a more expressive feeling, and not feel like a box that counts ones and zeroes, which lead to the breakthrough of casual laptops. In the early 2000s, casual laptops had been a great success, as a lot of teenagers and young adults purchased those colorful portable computers as a tool to express themselves in public. [8]
Sometime between 2013 and 2014, gaming laptops had been introduced and attracted lots of customers because of its wild combination of colors.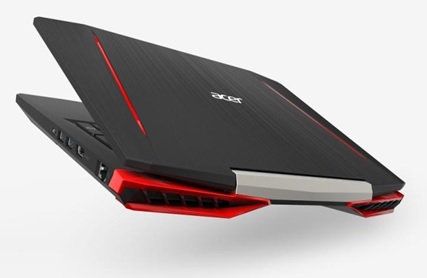 The Acer Aspire VX-15
Until now, the trend is still ongoing, more and more laptops were manufactured with more variation of mixes of colors, just to make it look a lot more attractive and not bland. [9]
CONCLUSION
With that said, colors are so widely used that it can even be implemented in today's gadgets that we use everyday. Colors can mean differently when implemented in certain aspects of these gadgets, like the color red viewed as a meaning of danger, meanwhile in the gadget world, red signifies excitement, power and sportiness.
In addition to that, colors had been able to set categories for certain uses, such as the color green for more of a freestyle feel, meanwhile the color black is to represent a more serious feel.
Imagine a world without colors, everything will just be gray and unattractive. With colors, we can justify what this individual likes, how he likes to present himself, and etc. Also, we won't be able to distinguish anything in detail, as everything seems to be bland.
Written by : Brandon
REFERENCES
[1]. http://www.empower-yourself-with-color-psychology.com/meaning-of-colors.html
[2]. https://en.wikipedia.org/wiki/Mobile_phone
[3]. https://en.wikipedia.org/wiki/Tablet_computer
[4]. http://www.nytimes.com/2011/07/07/fashion/watches-are-rediscovered-by-the-cellphone-generation.html
[5]. https://en.wikipedia.org/wiki/IPod
[6].  Strickland, Jonathan. "What's the difference between notebooks, netbooks and ultra-mobile PCs?".  HowStuffWorks.com. Retrieved 23 September 2014.
[7].  "World's First Laptop PC". Toshiba Science Museum. Retrieved 21 May 2017.
[8]. http://www.dell.com/content/products/results.aspx/notebooks?c=us&l=en&cs=19