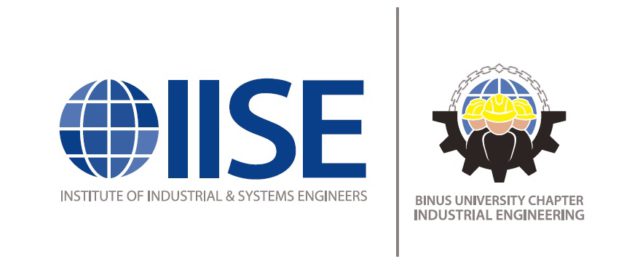 IISE Student Chapter
Being a student member in Institute of Industrial and Systems Engineering (IISE) will surely beneficial in many aspects as you are entitled to all the benefits of professional members except voting. You can easily connect with leaders in the field and find subject matter experts; get connected with your peers; and receive industrial and systems engineering field's latest advancements and solutions through newsletters and magazines, exclusively available only for IISE member. Enrolling as a full-time students is the only requirement you have to fulfill in order to join the IISE BINUS University student chapter. For further information, visit our website at http://ie.binus.ac.id/the-iie-chapter-diploma/vision-mission/
Achievement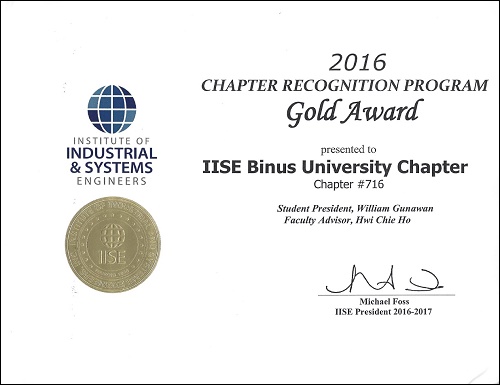 Another outstanding achievement comes from IISE BINUS university student chapter this year. 2016 Gold Award is awarded by the IISE headquarter in Atlanta, Georgia USA.
This is the highest award in term of chapter organization criteria. The previous year's UCAR is submitted and evaluated by the headquarter to ensure its compliance to the required measures. Chapters meet the targeted threshold is entitled to the respective awards ranging from bronze to gold.
IISE Binus university student chapter  once again is entitled to another gold award, the fourth consecutive gold awards received since the chapter's establishment in 2012. A very remarkable accomplishment which cannot be achieved without continuous strong effort and assistance from chapter officers and members. We would like to thank you everyone who has been actively participate in our activities and provide us valuable and constructive feedback which continuously develop us to be a better and more professional and prestigious student organization in Southeast Asia.
To learn more about our IISE student chapter, contact our president, Seallvin at 081213931787.