BINUS ASO School of Engineering – Automotive & Robotics Engineering Exhibition 2021 is a virtual exhibition showcasing various products and prototypes by the Automotive & Robotics Engineering (ARE) students.
Held from 9-12 June 2021, this exhibition presents visual and audio media that enable the visitors to experience the learning atmosphere and the output created by BINUS ASO School of Engineering students.
The BINUS ASO School of Engineering – Automotive & Robotics Engineering Exhibition 2021 is one of the first virtual exhibitions by BINUS ASO School of Engineering and will be followed by various future events with different products and creations.
---
Greeting from Head of Program
Welcome to the E-Portfolio Exhibition 2021 of Automotive Robotics Engineering Program, BINUS ASO School of Engineering, BINUS University.
Our students in Automotive Robotics Engineering (ARE) program, BINUS ASO School of Engineering (BASE), enjoy learning various knowledge in the field of computer science, mechanical engineering, and electronics engineering. Subsequently, those learning processes of various knowledge are comprehensively intertwined together, and enabling ARE students to develop intelligent mechanical and electronics systems, vis-à-vis utilization of intelligent computer algorithms. Ultimately, they are specifically aimed for applications in the field of intelligent automotive, intelligent manufacture and smart home/building/city; which are in line with the digital era's global trend and beyond, in term of applications within industry 4.0.
ARE Students' main learning methods, during their study in ARE Program, constitutes project-based learning. The aforementioned main learning methods are guiding ARE Students to innovate, communicate, and work in team, either inside or outside the classroom. This guidance process is supported by open and personal learning environment, where each student is given opportunity to be heard. By implementing this guidance process vis-à-vis ARE Students, in particular his/her problems and ideas, can be transformed into solutions and better processes, activities, or creations that are beneficial toward the student and the community.
Innovative ideas and product prototypes are exhibited in E-Portofolio Exhibition 2021 program Automotive Robotics Engineering. Those ideas and prototypes are fostered and nurtured through learning systems that are supported by ARE and in wider scope of BASE's lecturers provision on descent and respectable education through various learning process adaptations during the Covid-19 pandemic. Ultimately, as the result, the aforementioned learning systems are enabling ARE Students to experience decent and respectable learning process and produce various innovative ideas and product prototypes.
Herewith, to conclude our greeting, we respectfully welcome you to enjoy our ARE students' creations; and we hope they simultaneously ignite inspirations and provide benefits to the community.
Endra, S.Kom., M.T.
Head of Program
Automotive Robotics Engineering (ARE) Program,
BINUS ASO School of Engineering, BINUS University
---
Greeting from Yasuhiko Shimomura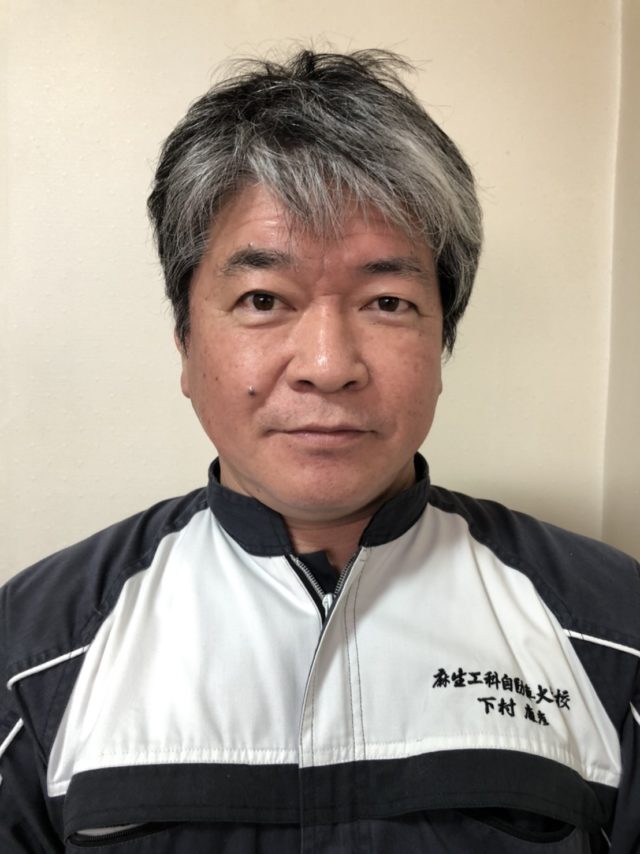 To begin with, I would like to introduce myself as Yasuhiko Shimomura;
I am one of faculty members, in my specialization in the domain on: The Structure and Maintenance of Automobiles, at Automotive Robotics Engineering (ARE) Program, BINUS ASO School of Engineering (BASE), BINUS University.
I have wide spans of professional experiences, including my work as one of Service Engineers at Toyota Dealership for 21 years. During those years, I acquired Toyota Skill Test Level 1 qualification (technical qualification) and Toyota Business Certification Level A qualification (customer service qualification); in which I have been mainly in charge of advanced repair work. I worked hard while feeling the joy that resonates from the smiles of the customers when the difficult problems were resolved. To some extent and beyond, I was able to challenge myself and acquire the qualification of a national first-class automobile mechanic issued by the Japan Government.
Posterior to those 21 years, my subsequent goal was to train Service Engineers. Therefore, I moved to ASO College of Automotive Engineering Technology, in which I have been working with the passion and joy in teaching automobiles; and interacting with students.
Ultimately, I was then assigned by ASO College to teach in BINUS ASO School of Engineering despite the challenge at that time I was not able to speak Bahasa Indonesia or English. Yet, I took the challenge and accepted the job placement. Furthermore and Currently, I am able to provide lectures with the support of BASE staff and students. Therefore, I would like to convey my gratitude to everyone involved for enabling me to work at BASE.
In the 2021 E-Portfolio Exhibition of ARE Program, You are welcome to spectacle the learning outcomes of our ARE Students. It is our utmost appreciation for visiting and having a beneficial look to this E-Portfolio Exhibition.