Sistem Akses Automotive Berdasarkan Pendekatan Biometrik
Kendaraan saat ini sangat kompleks baik dari segi fitur maupun antarmuka pengguna. Sistem identifikasi biometrik merupakan solusi yang efektif untuk personalisasi kendaraan untuk setiap pengemudi dan memungkinkan dia untuk mengakses informasi rahasia yang tersimpan dalam database kendaraan. Memanfaatkan teknologi biometrik canggih, identifikasi pengemudi biometrik mengoptimalkan pengaturan aktif bantuan driver dan pencegahan kecelakaan pada sistem kendaraan khusus sesuai dengan orang yang diidentifikasi. Dengan kemampuan untuk mengenali driver yang benar, identifikasi pengemudi biometrik dapat mengaktifkan keamanan jaringan mobil untuk mencegah dari hacking dan algoritma berbasis perilaku pengemudi fitur untuk keamanan dan performa kerja sistem dalam mobil.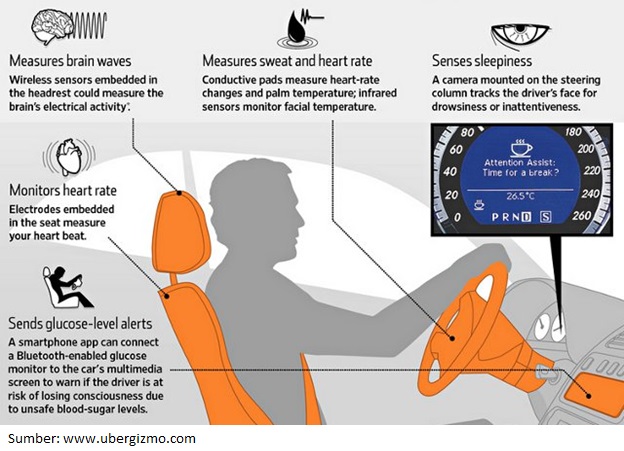 Pemanfaatan identifikasi pengemudi biometrik dapat berbaur dengan baik dengan sistem keamanan kendaraan yang ada dan menawarkan tingkat perlindungan yang lebih tinggi multi-level[1]. Selain itu, sistem pengenalan dapat diintegrasikan ke dalam sistem kendaraan cerdas dengan tujuan mencapai mengemudi lebih aman. Beberapa contoh sistem biometrik pada mobil yaitu; Mitsubishi Electric Corporation menunjukkan bagaimana biometrik dapat diaplikasikan untuk konsep mobil masa depan di 2011 Tokyo Motor Show dengan konsep EMIRAI. Mobil mengenali wajah pengemudi menggunakan kamera, dan kemudian juga mengambil suhu wajah pengemudi dengan sinar inframerah. Selain itu, mobil juga dilengkapi dengan sebuah sensor di kursi mengukur denyut jantung pengemudi. Baru-baru ini, Dr. Kim, CEO dari IriTech, menyatakan dalam sebuah wawancara dengan Findbiometrics bahwa beberapa produsen mobil telah menghubungi perusahaan untuk identifikasi iris di dalam mobil. Dengan sistem identifikasi iris, dapat membantu untuk kevalidan otoritas dari sopir dan memanfaatkan Bluetooth atau sistem lain untuk menjamin keamanan penuh di dalam mobil.
Dalam perkembanganya bantuan driver dan sistem informasi semakin meningkatkan kenyamanan berkendara dan keamanan. Identifikasi biometrik untuk pengedara dapat mengoptimalkan skema bantuan pengemudi aktif dan pencegahan kecelakaan dengan memberlakukan pembatasan khusus untuk pengendara yang berhak saja. Dengan bantuan dari profil pengendara, pencegahan kecelakaan on-board dan sistem bantuan, mobil dapat memenuhi gaya mengemudi yang berbeda[2]. Selain itu, melalui fitur perlindungan anti-pencurian, sistem identifikasi dapat mengirim pesan ke pemilik ponsel jika tidak dapat mengidentifikasi orang yang berada pada kursi pengemudi [3].
Kontributor: Winda Astuti Ph.D
Referensi:
[1]   N. Kiruthiga1 and L. Latha2, "A Study of Biometric Approach for Vehicle Security System Using Fingerprint Recognition," Int. J. Adv. Res. Trends Eng. Technol., vol. 1, no. 2, pp. 10–16, 2014.
[2]   S. Sebastian, "Literature Survey on Automated Person Identification Techniques," Int. J. Comput. Sci. Mob. Comput., vol. 2, no. May, pp. 232–237, 2013.
[3]   R. Saini and R. Narinder, "Comparison of Various Biometric Methods," Int. J. Eng. Sci. Technol., vol. 2, no. I, pp. 24–30, 2014.